On Line entry problems.
Trial entry fees will be Centre and C/ship trials, Adult £25 and Youth £15. Closed to Club, Adult £20 and Youth £15. Wednesday night series, Adult £15 Touth £10.
Copied from Horsforth MCC Facebook page. Note: Bradford DMC has 45 riders who think they have renewed their licence/membership.
Please note: To renew your club membership online you have to go to: https://bradforddmc.sport80-clubs.com/
We are still getting requests where the 'Add a Club' option has been used on the Club & Team Affiliation tab and no payment is made.
Also, we note that many members' profiles still need to be updated. Check your Member Details and ACU Competition Licence tabs and ensure they are 'CURRENT' and not lapsed. It is usually that some detail is missing from the form which is accessed by selecting the tab. (If these details have lapsed it will not allow entry to events).
Just a reminder if your details are not updated correctly you will not be able to enter our Centre C/ship trial on 12/2/23.
ACU Sport 80 Club Membership and Licence Renewal Instructions for 2023 Riders
Riders that have never held an ACU licence or club membership must create an ACU/Sport 80 account first.
If you are a rider that has only logged in to Sport 80 and has not applied for licence renewal or to join Bradford District Motor Club, starts at stage 1 below
Riders that have applied for a trial registration licence and paid, only complete stages 1-4
If you have joined a different club and have renewed your licence but wish to join Bradford & District Motor Club as well, only complete stages 1-4
Riders that have already joined Bradford & District Motor Club without going through the process below, your application will or has been rejected, as the system will not have taken your membership fee. You will have to now join correctly in accordance with the video.
Instructions
2 – If you link to the Club's main website follow the link "to "Pay Your Club Membership Here"
3 – Whatever links you follow you will come to this page. Scroll down until you come to memberships.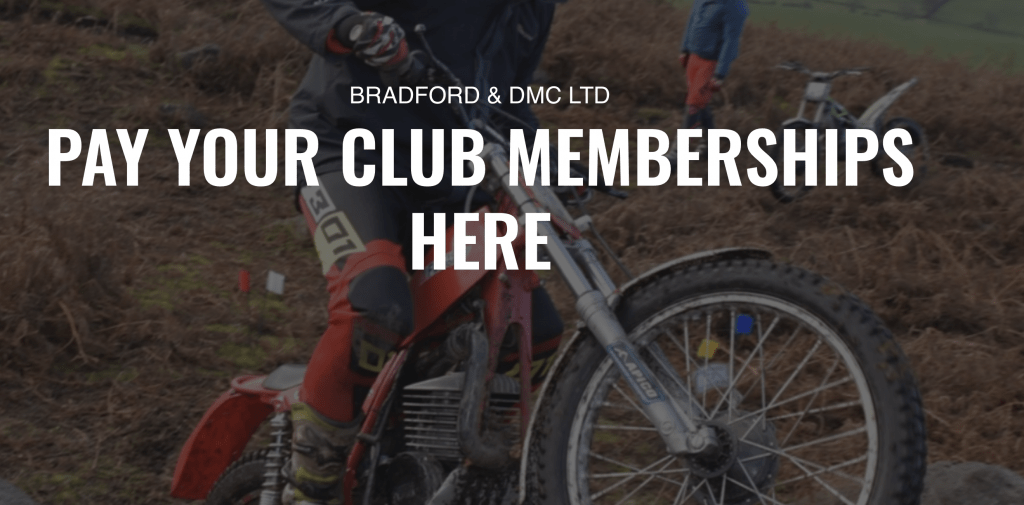 4 – Fill in the electronic form, ensuring you enter all the correct details, and process the payment. If you have already renewed/purchased your ACU licence and paid stop here.
REMEMBER IF YOU DO NOT HAVE A CLUB MEMBERSHIP OR TRIALS REGISTRATION (LICENCE) VIEW THE VIDEOS AT THE START OF SECTION ONE AT THE TOP OF THE PAGE
If you now want to renew your Trials Registration follow the instructions below.
5 -Select the process Licence button; this will now take you to your sport 80 login. Once in the system, it should automatically take you to your licence renewal.
6- Complete all the stages with the help of the video, do not activate the auto renewal button.
7 – Once the application is complete you will receive an email and you will be able to print your licence off or store it in your wallet on your phone to show at events as proof of holding a current licence (plastic licences are no longer supplied by the ACU).
Anyone experiencing difficulties please get in touch with the ACU on Tel no: 01788 566401 and they will provide all the guidance needed.